Global News
Just Fontaine: French football legend and World Cup record holder dies aged 89 | World News
Just Fontaine, the French footballing great who scored an "incredible" record 13 goals at the 1958 World Cup, has died at the age of 89.
Tributes will be paid to the "emblematic figure" at games on Wednesday evening and at the weekend, said officials in the country.
His former club Reims and the French Football Federation confirmed his death on Wednesday – with the news coming two months after the sport lost arguably its greatest legend, Pele, who died at the end of December.
Fontaine took six games to score 13 goals at the 1958 World Cup in Sweden, when he was a late inclusion into the French squad.
In a 2006 interview, Fontaine, who was renowned for his lightning pace and ruthless finishing, said he felt it was unlikely his tally would ever be beaten.
"Beating my record? I don't think it can ever be done," Fontaine said.
"The person who wants to beat me has a massive task, doesn't he? He has to score two goals per game over seven games."
The highest scorer at a World Cup tournament now gets the Golden Boot award. Fontaine set the record when FIFA did not present a specific prize to the competition's top scorer.
The Moroccan-born star was a little-known forward outside of the French league when he arrived at the 1958 tournament.
He tormented opponents with his speed and finishing touch – and while playing in someone else's boots after damaging his own in training.
Brazil, inspired by a certain 17-year-old called Pele, beat France 5-2 in the semi-final on their way to lifting the trophy.
In addition to his feats with the national team, Fontaine won the French league title four times, the French Cup and reached the final of the 1959 European Cup during his club career with USM Casablanca, Nice and Reims.
"Justo is, and will remain a legend of the French team," France coach Didier Deschamps said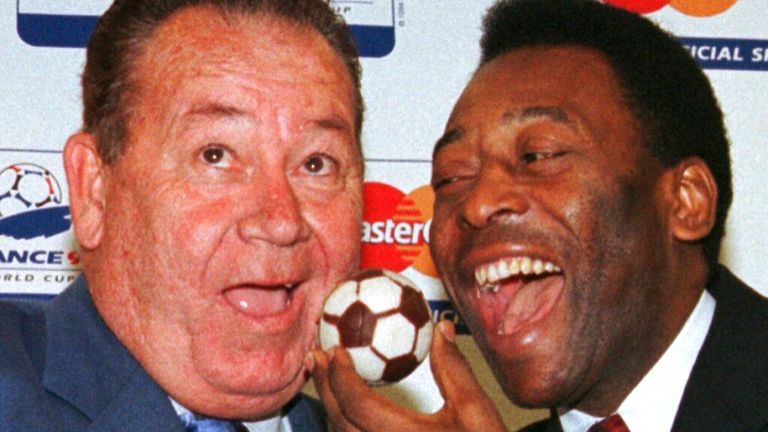 'Deep emotion and immense sadness'
Fontaine's meteoric rise as a scorer saw him net 200 goals in 213 games. He scored 30 goals in 21 games for France.
However, his playing career was cut short when he was aged 28 after he suffered a leg fracture after a mistimed tackle in March 1960.
After he retired, he briefly coached France's national team and then coached Luchon, Paris Saint-Germain, Toulouse and the Moroccan national team.
The French Football Federation said tributes will take place across the nation with a "minute of homage" at games.
Interim president, Philippe Diallo, said: "The death of Just Fontaine plunges French soccer into deep emotion and immense sadness.
"He was an emblematic figure, with his incredible record of 13 goals at the 1958 World Cup.
"He wrote one of the most beautiful pages in the history of the French national team."
#Fontaine #French #football #legend #World #Cup #record #holder #dies #aged #World #News