Global News
Greta Thunberg twice detained by police at anti-wind farm protest | World News
Greta Thunberg has been twice detained at protests in Oslo over an onshore wind farm which she and activists say hinders the rights of the Sami indigenous people to raise reindeer in Arctic Norway.
The 20-year-old Swedish environmental campaigner and hundreds of other demonstrators say a transition to green energy should not come at the expense of indigenous rights and have been demanding the removal of 151 wind turbines from land used by Sami herders.
"We want to make it very clear that it is the Norwegian state that is committing the real crime here, for violating human rights," she told Reuters news agency, minutes before she was removed.
The protests – spearheaded by Young Friends of The Earth Norway and the Norwegian Sami Association's youth council NSR-Nuorat – have forced the country's energy minister Terje Aasland to call off an official visit to the UK.
In October 2021, Norway's supreme court ruled the turbines, erected on two wind farms at Fosen and part of Europe's largest onshore wind power complex, violated Sami rights under international conventions.
However, they still remain in operation more than 16 months later.
Mr Aasland said although the court ruled the construction of the wind farm is invalid, it did not say anything about what should happen to it.
He told broadcaster NRK the government must "make new decisions that are in line with the premise of the Supreme Court's judgment".
The energy ministry has said it is hoping to find a compromise, but that it could take another 12 months.
Holding a red, blue, yellow and green Sami flag – Ms Thunberg was lifted and carried away by police officers from the finance ministry on Wednesday while hundreds of other demonstrators chanted slogans as they blocked access to some government buildings.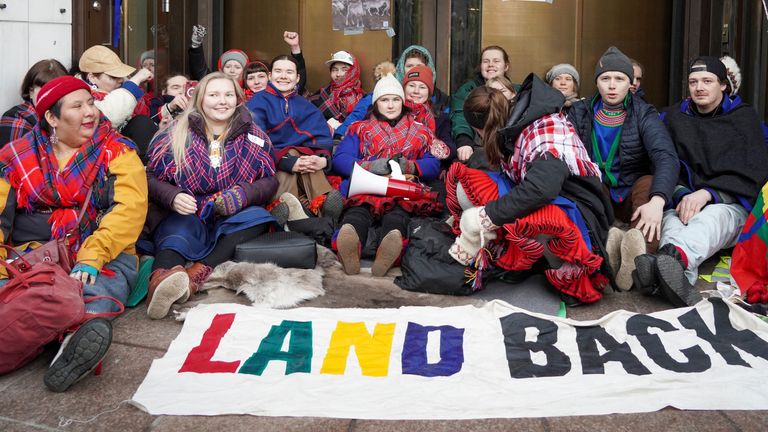 She and other protesters also blocked the entrance to the climate and environment ministry. Ms Thunberg was removed and detained by police for a second time, and again later released.
Several of the activists donned the Sami's traditional bright-coloured dress and put up a tent used by the Arctic people.
Read more:
Britons paying hundreds of millions to turn off wind turbines
Crash landing for dream of 'guilt-free flying'?
As Earth heats up, it's time to explore reflecting sunlight back into space, says UN
The Daily Climate Show: Gas power used on the windiest days

The Sami live in Lapland, which stretches from northern parts of Norway through Sweden and Finland to Russia.
Today, the nomadic people live mostly modern lifestyles but still tend reindeer.
They have said the sight and sound of the giant wind power machinery frightens their animals and disrupts age-old traditions.
Click to subscribe to ClimateCast with Tom Heap wherever you get your podcasts
#Greta #Thunberg #detained #police #antiwind #farm #protest #World #News